I'm currently writing this at a dilapidated hotel in Potosi on the northernmost coast of Nicaragua. I arrived earlier on a chicken bus from Chinandega. It dropped me off near the border and I walked a short distance down a road of volcanic ash past straw huts, livestock, and strangers giving me a shocked look. What is this Gringo hippie doing here in the middle of nowhere? The answer is, to get to the other side. The ferry boat to El Salvador is leaving tomorrow at 8am from the naval military base. I checked into the only hotel in town called Blanca del Golfo and went for a leisurely sunset stroll along the path to Volcan Cosiguina.
I left my hostel in Leon in the morning. The day before I went to a nearby island beach with new friends from Belgium and Portugal. We took a chicken bus to the shore, boat to the Isle del Brasiles, and horse back ride to Surfing Turtle Hostel located right on the beach. This was the most beautiful place I'd been so far during my travels. I immediately stripped down to my undies and jumped in the water, the waves cascading over my head. Afterward, we relaxed in chairs along the beach as the sun sunk below the horizon, light streaming off the ocean in magnificent blue and red colors. It was tempting to stay here for the night but we all decided to go back to Leon, stopping for dinner at a fish restaurant on the coast. This was such a perfect day spent with interesting new friends. My ear infection almost prevented me from joining on this adventure, luckily I made the right decision and joined in rather than lay around at the hostel. I grabbed a delicious cheap breakfast in the morning and left without saying bye to my friend Alessandra. Hopefully we will meet again soon! She wanted to hike the volcano where I am right now. I would rather catch the boat tomorrow than put strain on my body ascending another volcano. Hiking all the way up Acatenango in Guatemala was probably the toughest experience of my life so far. Although it was totally worth the tiresome effort, I'm more interested in beautiful beaches.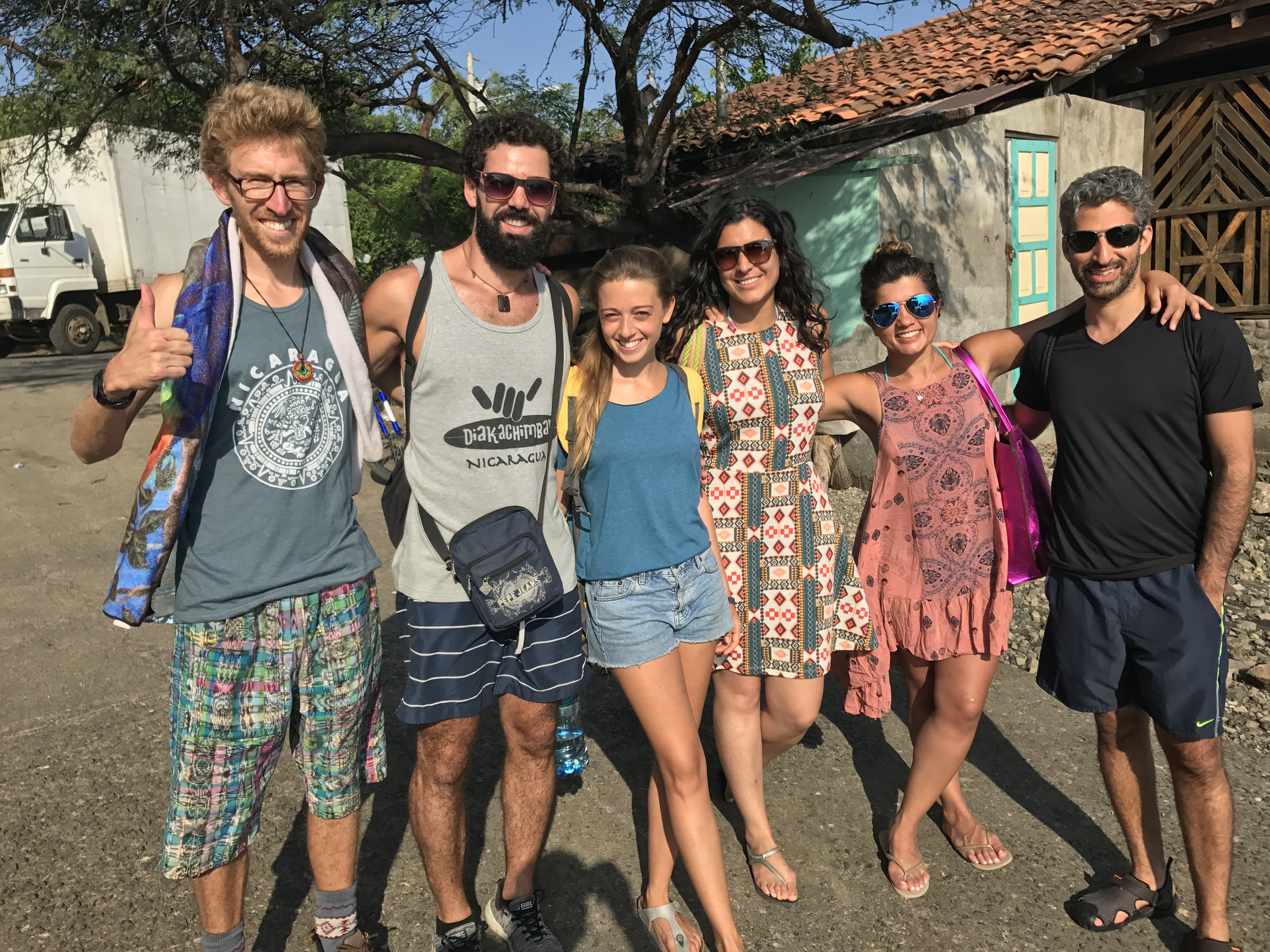 Before arriving in Potosi, I was stranded in Chinandega for a few hours waiting for the next chicken bus, so I sat on the sidewalk with the locals and observed the daily routines for awhile. Everyone was very friendly, except for one aggressive guy, but who cares about him anyway. The most memorable experience was this beautiful little girl about 8 eight years. She was so precocious, shy, innocent, and had this special glimmer in her eye. Full of potential and living in a third-world country. It made me feel sad for the happenstance ways of the world. Your success in life greatly depends on your origin, family and upbringing. She was helping her mom sell water and food for change on the street. I took a few photos of her and gave her a few Cordobas. It's easy to complain about not having enough money. Compared to what? It's all relative. I may not be a rich man, but I'm a good man, and that will always be more important to me. Traveling in Central America these past few months has taught me a lot. I've met people from all over the world, experienced different cultures and natural beauty, and discovered my freedom. Travel is the only experience you can buy that makes you richer.
I will spend a day or two traveling across El Salvador into Guatemala. I may spend the night in Antigua or check into the Quetzalroo again in Guatemala City. Third time's the charm. I still have a long ways to go, limited funds available, and I'm excited for upcoming adventures! It's all part of the hero's journey! Viva la Vida!
UPDATE:
I arrived safely El Salvadaor after a long day in moving vehicles. My day started by waking up early in the morning, walking to the port, and waiting in vain for the ferry boat to arrive to transport me across the Gulf of Fonseca. The tiny ship on the horizon never appeared at the dock. This is essentially a metaphor to my life sometimes. Luckily, a few guests at the hotel I was staying at were packing up the truck to Chinandega, so I immediately hopped in back and we were off! Afterward, I caught a taxi bike to the bus station, stopping at the ATM along the way, and bought a ticket on a shuttle to the Honduras border. After over an hour, we reached the small town of Guasaule where I caught another taxi bike to the border, presented my passport, and exchanged Cordobas for Lempiras. I'm not sure why this was necessary since the Nicaragua immigration office only accepted US dolla' bills, so I walked across the empty street to an ATM to withdraw more Trumps. They didn't have change for a $20 and my taxi driver was nice enough to exchange the bills. I paid the stupid $2 toll and crossed a bridge to the Honduras immigration border patrol. The officer requires you to scan fingertips and takes a photo for their records. I got the passport stamp, which is the only part of the process I care about anyway. It wasn't long before the bus to El Amatillo arrived. This would take me to the El Salvador border. The bus broke down more than halfway to our destination and the driver traded it in for another beater that got us safely to the border. I did the immigration dance once more, and walked across the border with no payment required this time. I easily found a chicken bus to San Miguel, which brings us full circle. What did I learn during this whole experience? 1. The immigration system is very inefficient. This should be common knowledge by now. 2. Roads in Honduras are atrocious; their tax dollars are apparently hard at work on lining the pockets of corrupt politicians. 3. Be trusting of people and they will return the favor. 4. Learn basic Spanish phrases to communicate more effectively. I already know that one, but simply lack the motivation. 5. With passionate persistence, you achieve pretty much anything you set your mind to. On this topic, I recommend listening to or reading the book Grit, by Angela Duckworth.
Thanks for reading this blog post! I will continue writing about my travels throughout Central America, so stay tuned for updates. My current plan is to arrive back in Austin around July 20th, give or take a few weeks.
Watch my full-length travel documentary below!
**Don't hesitate to contact me if you need a professional photographer. I specialize in aerial photography, event photography, concert photography, real estate photography, and wedding photography. Currently accepting new clients in Austin, Dallas, Houston, San Antonio, and surrounding areas!
Would you like to support my hero's journey by donating...
austin photographer, austin tx photographer, austin texas photographer, austin tx photography, aerial photography austin, drone photography austin, austin professional photographers, photographers in austin tx, photographer austin, photographer austin texas, professional photographer austin, austin texas photography, austin aerial photography, austin aerial photographer, austin drone photographer, local photographers, professional photographer, photographer austin tx, photographers austin, austin texas photographers, event photography austin, austin event photographer, austin concert photographer, headshot photography austin, austin headshot photographer, austin real estate photography, real estate photographer austin